Australia, the wondrous Land down Under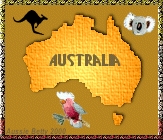 We are currently under construction, but please come back soon and say hello! That is to say the PAGE is under construction, not Australia.
Australia is one of our favorite places to visit. The people, the climate, the sites, the animals, it is just a grand place to go. Over time we will chronicle our 3 trips to the Wondrous Land Down Under, and I will post information on my exploits with learning to play the Didgeridoo, the way we Westerner's play, certainly not traditional.
Enjoy the site, let us know what you think, and return now and again to see what is new.