Scooter's Agility Club


Scooter wins her Open Agility Title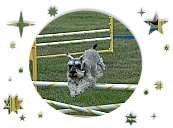 at Lynden, WA. on Sunday the 22nd of July 2001! Hooray Scooter!!!!!
Each year we make a trip down to Wilsonville, Oregon to attend the annual Schnauzer Walk. Hop on over to the Schnauzers page for information on this event as well as for general Schnauzer info.
As you can see, Scooter really enjoys her Agility time. On the Agility Trials page you will find links to some of the Trials that we have attended and that Scooter has run in. If you have an Agility dog you might even find an image or two of one of your runs.
We are pretty darned happy to have Scooter as a part of our family, she helps to keep us young and healthy.
We lost our beloved Scooter in August of 2010. She was a treasure and a pleasure, she brought unbelievable joy to our family. Scooter was my Photography Buddy, joining me often. She will be forever remembered and missed. We have faith that she is running Agility in Doggie Heaven.
On New Year's Eve we drove to Redding California to pick up Lola, the newest addition to our family. Watch for the opening of Lola's page, as she begins he journey into Agility. Until then, you can see here on our Photos of Lola Pages.
Home | Photo Pricing | Agility Trials | Schnauzers
This site was last updated 03/10/12